Review:
Let's Get Lost
by Adi Alsaid
Goodreads
Release date:
July 29th, 2014
Publisher:
Harlequin Teen
Series:
No
Source:
eARC via Edelweiss/ Print ARC from BEA14
Length:
320 pages
Rating:
Not my cuppa tea. MPDGs, road trips, instalove, secret pain, and pretentious ephiphanies of great importance.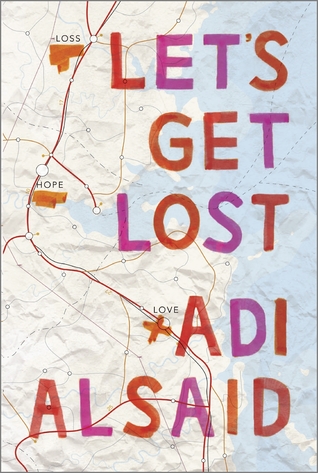 Five strangers. Countless adventures. One epic way to get lost.

Four teens across the country have only one thing in common: a girl named LEILA. She crashes into their lives in her absurdly red car at the moment they need someone the most.

There's HUDSON, a small-town mechanic who is willing to throw away his dreams for true love. And BREE, a runaway who seizes every Tuesday—and a few stolen goods along the way. ELLIOT believes in happy endings…until his own life goes off-script. And SONIA worries that when she lost her boyfriend, she also lost the ability to love.

Hudson, Bree, Elliot and Sonia find a friend in Leila. And when Leila leaves them, their lives are forever changed. But it is during Leila's own 4,268-mile journey that she discovers the most important truth— sometimes, what you need most is right where you started. And maybe the only way to find what you're looking for is to get lost along the way.
I wanted to love this. I figured this would be the perfect book to read whilst actually traveling, and while I was by no means road tripping, I did read the second half on a train and the windows were open so my hair was definitely being tossed about and it was vaguely road trip-esque. Unfortunately, "vaguely" could also describe the level of emotional attachment I felt for the characters in Let's Get Lost.
LGL centers around a manic pixie dream girl named Leila. Right off the bat, this gave me pause, because I am not a fan of girls existing merely as plot devices meant to spur young white men (and two young white women, in this case) to greater personal and intellectual understanding and a state of enlightenment and self-actualization and blah blah. But I knew that's what the book was going for and playing with and that it was very aware it was centered around a MPDG. I thought perhaps this might be a twist or a play on that concept, but it's kinda just straight up MPDG.
Leila doesn't feel like a person to me. She has a favorite Vonnegut quote. She's super attractive. She drives a cherry red car with a cherry red interior and cherry red accessories. We see Leila, for most of the book, filtered through the eyes of the people she meets, and while at times I truly enjoyed her, she was mostly kept at a distance for the bulk of the book. Which, again, is the point, but it still lessened my enjoyment of the book.
The book is divided into five sections with five different points of view: HUDSON, a small town teenage mechanic who instaloves the shit all over Leila and has zero personality; BREE, a teen runaway with family issues whose section I actually enjoyed; ELLIOT, a soppy but funny guy who's had his heart broken; SONIA, a grieving girl trying to figure out how to move forward; and then finally LEILA herself in by far the weakest segment of the book.
Apparently the United States is populated only with white teenagers going through sad times and who are willing to allow a perfectly strange girl invade their lives AND THEIR HOMES. If Leila had been a secret axe murderer, this book would have been ten times as interesting. SERIOUSLY, DO NONE OF THE THINGS ANY OF THESE CHILDREN DO.
Now I'm going to break down each mini story even further, because really, the sections are only connected by the presence of Leila as she makes her war northward to see the Northern Lights, for reasons she won't admit to us until the very end.
HUDSON: I wanted to stab this section in its paper face. I do not get this romance, and his issues were by far the least compelling of the entire novel. I found myself skimming it, and I was totally unable to comprehend the connection between him and Leila. Urrrrrrrrgh.
BREE: I was feeling very low on this book, and then the Bree section started and I found myself enjoying it. Bree lost her parents very close together, and feuded with her sister, and is generally the sort of person to act out in big, dramatic ways. She's a rebellious, hitchhiking petty criminal. She and Leila had pretty good friend chemistry, and I liked the realizations she came too. But there was something sadly stereotypical about Bree, too.
ELLIOT: This section highlighted how truly funny Alsaid can be when he lets his characters banter and undergo zany highjinks and improbably situations. Elliot has just been turned down by his longtime best friend, and he's heartbroken. Then he meets Leila in what is BY FAR the most ridiculous circumstances, but then Leila encourages him to try to win the girl over even though... um, he should really accept her "no" as "no". But what follows is probably the most fun section of the book, because thigns get a bit wacky and Elliot and Leila probably have the best friend chemistry of anyone in the book. And then there's a silly ending that shouldn't have happened.
SONIA: Sonia's boyfriend died, and now she's falling in love with a new guy and she's torn. If this story had been made longer, it could have made a very nice and sad novel, but it's hard to become too invested in these short sections. But thankfully, Leila is here to simultaneously mess up the day and save the day and get Sonia to open up about all her problems and then magically fix them. Again, one of the better sections of the book, but the formula was getting old by now.
How many times can Leila just magically arrive in her cherry red car at exactly the moment these suffering teens need her?
LEILA: ARRRRGH. ARRRRGH, this section. We finally learn Leila's backstory and the real reason she's going to see the Northern Lights, and OH MY GOD, IT IS SO RIDICULOUS. I rolled my eyes. I'm a heartless wench, but come on. Come on. I can only handle so many characters with secret pain and traumatic, melodramatic, soap opera pasts. Ridiculous. And then there is the dumbest of endings and ughhhhh.
It's a shame, because Alsaid can really write. There are some actual laugh out loud dialogue moments in this book (Rick the heartless ranger was the highlight), and Leila herself was almost a fully realized character. But this road trip took turns though Clicheville, Over the Top Highway, MPDG City, Cardboard Road, and Boresville. Sadly, it's not a road trip I would want to get on again.
Just because.