Review:
Magnolia
by Kristi Cook
Goodreads
Release date:
August 5, 2014
Publisher:
Simon Pulse (Simon & Schuster)
Series:
No
Source:
e-ARC via Edelweiss
Length:
384 pages
Rating:
That was unexpectedly WONDERFUL.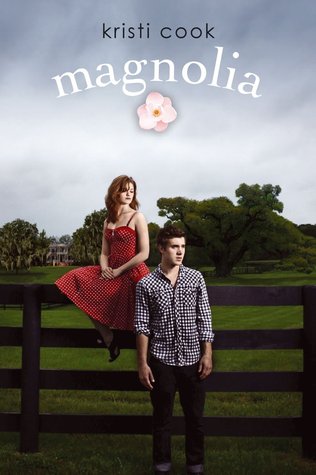 In Magnolia Branch, Mississippi, the Cafferty and Marsden families are southern royalty. Neighbors since the Civil War, the families have shared vacations, holidays, backyard barbecues, and the overwhelming desire to unite their two clans by marriage. So when a baby boy and girl were born to the families at the same time, the perfect opportunity seemed to have finally arrived.

Jemma Cafferty and Ryder Marsden have no intention of giving in to their parents' wishes. They're only seventeen, for goodness' sake, not to mention that one little problem: They hate each other! Jemma can't stand Ryder's nauseating golden-boy persona, and Ryder would like nothing better than to pretend stubborn Jemma doesn't exist.

But when a violent storm ravages Magnolia Branch, it unearths Jemma's and Ryder's true feelings for each other as the two discover that the line between love and hate may be thin enough to risk crossing over.
I'm a fantasy girl. I like witches. Dragons. Assassins. Princesses. Thieves. So what does it say that I put down my high fantasy YA read in favor of
Magnolia?
Well, it says this is a damn good contemporary, that's what it says.
I guess this is the summer of super cute contemporaries with heart that just come out of
nowhere
and conquer my feelings completely (Exhibits
A
,
B
, and
C
)
Jemma and Ryder are the opposite of star-crossed lovers. Their stars are being SHOVED together by their parents, since their families have been side by side for a century and a half. And Jemma and Ryder hate it, like any teenagers would, and what's more, they hate each other.
Or so they think because honestly
Hate to love. It's my catnip. You know what's also my catnip? Vivid, strong-voiced main characters. Jemma is tremendous. She's incredibly stubborn, hot-tempered, and has a tendency to lash out when she's angry, but she's real, funny and I loved being in her head. And I very much felt like I was. I felt what she felt (despair, anger, SWOOOOONS). I loved her tremendously. Also, she's a tremendous bad ass because SHE SHOOTS A MOTHERFUCKING SNAKE IN THE MOTHERFUCKING HEAD because Jemma is TIRED of these motherfucking snakes in her motherfucking yard. It's awesome. (Trust me, it actually is super awesome, and I am not one for guns.)
But yes, there is a wonderful hate to love story between Ryder and Jemma. After a misunderstanding years ago, they've become total enemies, even though they're in the same friend group in the same Southern town and live on the same
street
.
Another thing I loved: the setting. Magnolia Branch, Mississippi is about as different from my hometown of Los Angeles as it gets, and I LOVED spending time there. This book does not devolve into cliches, but the setting is very much a part of this story, especially as we get into the main event of the plot: a whopper of a hurricane headed STRAIGHT for Magnolia Branch. And of course, Jemma and Ryder are trapped in her house together, forced to weather rain, wind, tornadoes, mud, and, most of all, their feeeeeelings.
I love that this book isn't just about the evolving, contentious relationship between Jemma and Ryder. (and the sexual tension because THERE IS SO MUCH OF IT. So deliciously much). Instead, so many story lines are masterfully woven together, giving it a real complexity. Jemma is struggling with her future. She wants to go to NYU to study film; her parents want her to fulfull the life path they've laid out for her (Phi Delta at Ole Miss, married to Ryder, 2.5 kids and a white picket fence). Jemma struggles with wanting to leave her hometown and loving her hometown. And most of all, Jemma struggles with the fact that her sister has been diagnosed with a benign brain tumor, and suddenly the person she thought the was and the life she's always had becomes a big old mess. Just in time for a big ass hurricane.
Swoons. I say that word a lot, and I mean it a lot, because shipping and swoons and sexuals are what I LIVE for, and this book
delivered.
Hot damn. Yes please. I ship it. I want it. I need it. Jemma and Ryder make a lot of mistakes, but they're very healthy, mature, self-aware people. It was glorious watching them finally learn how to be honest with themselves and each other and finally just grow up already. Also kissing. Because
kissing.
Jemma is also very pro-female friendships and relationships and though she's fiery and INTENSELY stubborn, she's truly kind. Love her. And Ryder is
hot
also very well-developed. He's a totally nice guy who has made some dumb ass decisions for all the right reasons, but he's sweet and vulnerable and
hot
also hot.
My two main niggles are both super spoilery things I was still very much able to roll with. One was a plot twist about two thirds of the way through that was half a cop out, that I didn't see coming, but that also took the story in a nice direction. It was an entirely DIFFERENT direction than I was expecting, though, and not one I completely wanted, truth be told. But Cook definitely handled it well.
My last niggle really didn't both me, but this book gets INTENSELY cheesey at the end, but... ahh, screw it. It's glorious. I shall revel in the cheese and roll around in it like a piece of bread in a pot of fondue and I already regret this metaphor but whatever THE CHEESE IS GOOD. I had the hugest grin on my face. I kept making sounds. Sounds I will not describe to you, because they were embarrassing, high-pitched sort of sounds that made me dog look at me like she wanted to disown me.
Whatever.
Magnolia,
I love you. I've preordered you. I can't wait to own you and stroke you like a book creeper.