Review:
Strange and Ever After
by Susan Dennard
Goodreads
Release date:
July 22nd, 2014
Publisher:
HarperTeen
Series:
Yes, #3 in the
Strange and Ever After
series
Source:
ARC borrowed from
Gaby
/e-ARC via Edelweiss
Length:
304 pages
Rating:
Heart? What heart? Sure. Take it, Susan Dennard. I'm not using it much. Also, WHY AREN'T YOU READING THIS SERIES??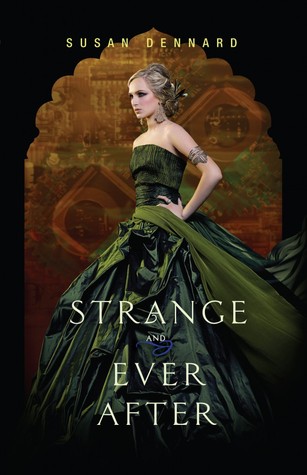 In the conclusion to the trilogy that Publishers Weekly called "a roaring—and addictive—gothic world," Eleanor Fitt must control her growing power, face her feelings for Daniel, and confront the evil necromancer Marcus...all before it's too late.

He took her brother, he took her mother, and now, Marcus has taken her good friend Jie. With more determination than ever to bring this sinister man to justice, Eleanor heads to the hot desert streets of nineteenth-century Egypt in hopes of ending this nightmare. But in addition to her increasingly tense relationships with Daniel, Joseph, and her demon, Oliver, Eleanor must also deal with her former friend, Allison, who has curiously entangled herself in Eleanor's mission.

With the rising dead chomping at her every move and Jie's life hanging in the balance, Eleanor is convinced that her black magic will see her through to the bitter end. But there will be a price. Though she and the Spirit Hunters have weathered every battle thus far, there will be consequences to suffer this time—the effects of which will be irreversible. And when it's over, only some will be able to live a strange and ever after.

Susan Dennard will leave readers breathless and forever changed in the concluding pages of this riveting ride.
I'm going to do this review a bit differently. I will talk about my feelings for
Strange and Ever After
(!!!!???NOOO!!!OMG!!YESS!SWOOON!NOOOOOOOOOO!!!ARRRGH), but it's always so hard to review series enders without spoilers, and I SUPER DO NOT want to spoil you for this book, because there are sucker punches and huge emotional reveals and all kinds of good stuff that you want to discover on your own.
Reasons you should be reading this series:
This world is awesome.
Philadelphia. Paris. EGYPT. Yes, book three takes place in historical EGYPT. Historical magical necromancery zombie EGYPT. I love the way the lush settings play into the story. And also, it is total travel porn. HISTORICAL travel porn for people who love history and for people who don't. I love this gothic paranormal steampunk world, with its Spirit Hunters, unead, GIANT BIRD MONSTERS (!!!!),
mummies
, and the like. It's truly fantastical, and oh so much fun, even when it stabs you in the heart.
Eleanor.
Eleanor is such a fabulous heroine, full of strength and insecurities. She's a grey area heroine struggling with the lure of her newfound powers and her own morality. She's in a rough place at the beginning of
SAEA
, full of grief and pushing away the people she cares for most (Daniel and Oliver). She's trying to figure out how to open herself up, how much power she should exert over her demon, how exactly she's going to defeat Marcus, the baddest of Big Bads.
Daniel.
Daniel.
Daniel? DANIEL.
Okay, FINE, I'll talk more. This rough talking, pure-of-heart, adorable inventor boy just DOES THINGS to me. He makes me feel and oh dear lord, can Susan Dennard write a kiss scene.
Ho boy
. (True story: Gaby and I once did dramatic readings to each other of Susan Dennard kiss scenes.)
The pacing.
SAEA
flies by. I read this book in one night over Christmas break because I had to give the ARC back to Gaby and also because I COULDN'T STOP and then somehow it was two in the morning and I was weeping into a grapefruit-sized wad of tissues. DON'T BELIEVE ME?
Behold tear-struck, 3 am Gillian with tiny swollen eyes and a pink snuffly nose and book full of
evil
brilliance in her trembling hands.
And here is a gross picture of my SAEA tissues
Which leads me to
THE FEELS.
I was honestly surprised by how strongly I invested in all of these characters, in Eleanor and Daniel and Oliver and Jie and Joseph and even Allison. I screamed at the betrayals, cried at their suffering, and wriggled with glee whenever something good happened. I was so incredibly invested in Daniel/Eleanor, but the relationship that truly stunned me with its layers and feels and heartbreak was Oliver/Eleanor. I CAN'T SPEAK ABOUT IT BECAUSE SPOILERS but oh my God so many tears. All the tears. I was a dried up shriveled prune of a person by the end. It's so wonderfully complex and emotional
Plus there's an epic battle of good vs. evil and gallivanting across France and Egypt in a steampunk flying contraption. There's romance, intrigue, action, laughs, friendship, and all other manner of goodly things. Please read this series. Pretty please? For me? I know you won't regret it.