Things have been suuuuuper busy (which is code for, um... I've read eight Richelle Mead books in the past week and a half? Sorry not sorry? VAMPIRE ACADEMY TOOK OVER MY LIFE OKAY) so not much blogging has occured. I've been too distracted by the
Adrian
fictional. Plus I moderated my first author event on Saturday! It was Sarah J Maas' last stop on her tour, and I got to chat and hang out with her, Robin Benway, and Nina Berry. It was all different kinds of awesome, and I'll do a post about it hopefully tomorrow.
In the meantime... let's talk about the unfortunate books that fell victim to my VA and
Bloodlines
binge read/mania/blind addiction! Poor unfortunate books. Perhaps in another point in my life, I could have finished you.
Review:
Blind
by Rachel DeWoskin
Release date:
August 7th, 2014
Publisher:
Viking Juvenile (Penguin)
Length:
416 pages
Series:
No
Source: Print ARC from the publisher
Goodreads
Christina has a pretty great, fairly positive review
of this one, but it definitely underscores what I learned the hard way: that this is not a Gillian book. It's a perfectly well-written book about a young girl who is struck blind in a tragic accident having to re-acclimate to life. What it does not have is any forward momentum, or plot, or even humor, really. Frankly, I was bored. Obviously I felt for Emma in some distant corner of my withered, dusty heart, but I didn't feel enough to be compelled by her story. Christina points out that it's a very realistic novel, which will work for a lot of people, but I tend to think that real life how it actually unfolds has little to no place in fiction. At least, not the fiction I like to read. Sorry,
Blind
. You are an important book, and you will be the perfect book for someone who says "MORE DRAGONS!" the way some say "More cow bell!".
Review:
Blackbird
by Anna Carey
Release date:
September 16th, 2014
Publisher:
HarperTeen
Length:
256 pages
Series:
Yes, #1 in the
Blackbird
duology
Source:
eARC via Edelweiss
Goodreads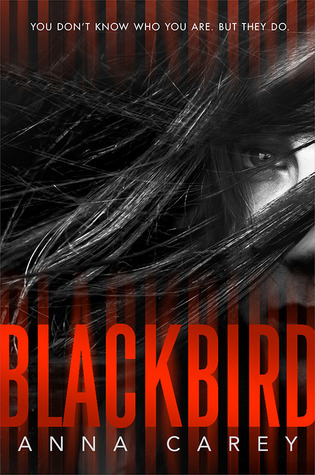 This might actually be a book I try again at a later date, because I was fully
fried
by my VA feels when I gave
Blackbird
a whirl. And while second person isn't my most favoritest of POVs, I'm always willing to reward authors who take risks.
Blackbird
, however, felt a bit like a mashup of a choose your own adventure novel and the sort of cheesy thriller you watch on a plane and probably stars Liam Neeson. Which is not a
bad
thing, really, but it wasn't hooking me, and I found myself rolling my eyes more often than not. The first half is slow, and the main character is a bit useless.
(It didn't help that I still had Rose Hathaway, bad ass extraordinaire, in my head, and kept muttering, "Yeah, but
Rose
could have taken that dude out.
Rose
wouldn't have been that dumb.")
But honestly, this book might have been better served by being told in first person. I think I could have connected to the main character more easily in first than in second. Second person just made her feel like a blank shell, to be honest, which made me less concerned that people were trying to kill her. Me. Her? Whatever.