Review:
The Falconer
by Elizabeth May
Goodreads
Release date:
May 6th, 2014
Publisher:
Chronicle Books
Series:
Yes, thank God, #1 in
The Falconer
series
Source:
gift from
Ellis
Length:
336 pages
Rating:
KIARAAAAAAAAAN. Kick-butt steampunk Scottish fae-slaying debutante Buffy. LOVE. BUT THAT ENDING IS NOT OKAY.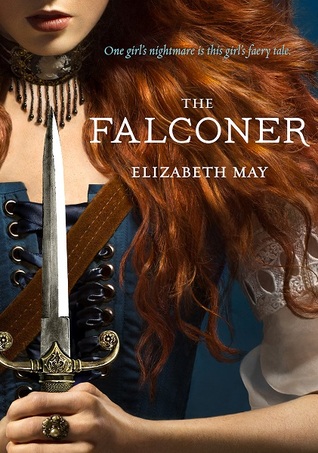 Heiress. Debutant. Murderer. A new generation of heroines has arrived.

Edinburgh, Scotland, 1844

Lady Aileana Kameron, the only daughter of the Marquess of Douglas, was destined for a life carefully planned around Edinburgh's social events – right up until a faery killed her mother.

Now it's the 1844 winter season and Aileana slaughters faeries in secret, in between the endless round of parties, tea and balls. Armed with modified percussion pistols and explosives, she sheds her aristocratic facade every night to go hunting. She's determined to track down the faery who murdered her mother, and to destroy any who prey on humans in the city's many dark alleyways.

But the balance between high society and her private war is a delicate one, and as the fae infiltrate the ballroom and Aileana's father returns home, she has decisions to make. How much is she willing to lose – and just how far will Aileana go for revenge?
To say I was under enormous pressure to love this would be an understatement. My friend Ellis read this months and months ago when it came out in the UK and she loved it (with one or two nitpicks) so much she sent me an email that is PAGES LONG about all the places she had THOUGHTS about THINGS. Things like Kiaran, but I'm getting ahead of myself.
So I was so glad that I ended up falling right into
The Falconer
with glee. I'd heard it has a slow start, but I'm going to disagree very heartily with that. We first meet Aileana, high born lady of Victorian Edinburgh, at a her first ball after coming our of mourning. Her reputation is in tatters, and she's trying very hard to be the well-behaved lady she used to be before her mother died... until she smells a faery. And Aileana has had one goal, one mission, since her mother's death--to kill faeries. So of course she has to wander off and go do exactly that. She goes and she kicks faery butt in bloody, gruesome fashion, amassing a multitude of injuries and taking names.
YES. FUN TIMES. I am not normally one for books with faeries, particarly when they are spelled like that, but this? In this book they function mostly as demons to be slaughtered, and boy, does Aileana slaughter them. I adored her. She is so driven by grief and revenge (her mother was killed by an evil faery, natch) that it serves to block out the rest of her feelings. She uses her bloodlust as a coping mechanism. Plus she's really dang good at it. The action scenes are fun and intense and madcap at times, especially when they blend the steampunk elements that May has woven into her historical Scottish setting.
Also, SCOTLAND! Not London! May takes carw to saturate this book with Scottishness, peppering the narrative with Scottish terminology I am sure I woefully mispronounced and a good deal of Scottish folklore.
The characters in this book are what truly delighted me. Besides Aileana--strongwilled, kick-butt, witty, sharp, and hiding a mountain of pain-- there are many others to love. Derrick, the tiny friendly pixie who lives in Aileana's dressing room, might be my personal favorite. He is funny and fiercely protective of Aileana. Plus, when he drinks a lot of honey, he becomes quite tipsy, and I laughed OUT LOUD at those scenes. The fact that there is no honey-drunk Derrick in my dressing room is distressing. Also the fact that I don't have a dressing room. Someone fix this.
Then there's Catherine, Aileana's highborn best friend, who is refreshing lovely and supportive and well-rounded, considering she is a YA best friend. I've been meaning to write a post on how often YA best friends are just
the worst
, but I adored Catherine to bits and hope she has more to do in the sequel. Love, love. Her brother Gavin, who could perhaaaaaps become a viable love interest for Aileana, is also given dimension and heart and a really fabulous scene.
AND THEN THERE'S KIARAN. KIARAN KIARAN KIARAN KIARAN KIIIIIAAAAARRRRAAAAAAAN. Okay. Let me try to be intellectual and reasonable and all kinds of grown up about this.
DON'T LOOK AT ME LIKE THAT. I CAN DO IT. So, Kiaran is the
wildly attractive
intimidating and inhuman fae who trains Aileana to... slaughter other fae. I'd tell you why he does that but spoilers, tragic spoilers. Kiaran is hard to pinpoint and his hair really should be big because he's full of secrets, and it's a slow unraveling to figure out what his deal is. But he's my favorite character and I might be unhealthily obsessed with him and every now and then I accidentally wail KIARAAAAAN and for some reasons it startles people. BUT KIARAN.
So, yeah. Together they slaughter fae in the streets of Edinburgh, ostensibly to save humans but mostly because tehy really, really enjoy it. Aileana is also tracking down the faery who murdered her mother by ripping her heart out (fun times) before Aileana's eyes, dealing with the fact that her reputation is in ruins (people mayyyybe think she killed her mom a little bit) and the fact that the fae apocalypse just might be coming... and that Aileana is right at the heart of it. Much happenings over in Edinburgh.
SO things are zooming along ever so awesomely. I am INVESTED. I am LAUGHING. I am feeling. I am swooning. I am dying. And then there's ACTION and BETRAYALS and we have reached the huge climax and battle battle kill kill so much awesome my heart is in my throat and I feel like
Haha, like I'd end a review there! In the middle of the paragraph! In the middle of my point! That would be madness, yes? No one would do that! I mean, after that "ending" in
my last read,
surely the universe wouldn't be so cruel as to force me to undergo literary blue balls again. That would be sheer cruelty.
Well... I hate to break it to you, but this book ends mid-scene. It's practically mid-sentence.
No. Really. I...
what?
UNNACCEPTABLE, MISS MAY. HOW COULD YOU DO THAT TO ME? WE WERE NOT FINISHED HERE, YOUNG LADY. BELOVED CHARACTERS ARE IN JEOPARDY. THIS SCENE IS NOT QUITE FINISHED YET. DID YOUR COMPUTER ACCIDENTALLY EAT IT, OR SOMETHING? I'M SUPPOSED TO WAIT A YEAR TO READ THE END OF IT?
You bet your bum I am ordering the UK version when it comes out in October. NO WAY I'm waiting a full year. LUNACY, I TELL YOU. UNACCEPTABLE LUNACY.
But other than that,
The Falconer
, you are one of my dearest friends. We got along so very swimmingly. I would like to hug you and squeal and also cry because why must you hurt me? I was going to read your sequel anyway
because Kiaran
! Now I must cry into my pillows and pray to Kiaran that everything turns out all right.