LONGEST WEEK EVER. Let's keep this short and sweet. Happy weekend, everybody!
For review:
From Macmillan:
Becoming Jinn by Lori Goldstein
Genies! This cover is really gorgeous in person.
Tuck Everlasting by Natalie Babbitt 40th Anniversary Edition
, which is really pretty and shiny and gold and gorgeous
From Penguin:
The Last Wild
and
The Dark Wild by Piers Torday
I'd never heard of this middle grade book (or its sequel) until it showed up in the mail, but the cover and the premise (a boy who lives in a world without animals and can't talk...until he realizes there ARE animals and he can ONLY talk to them) have sold me.
From Harper via Edelweiss: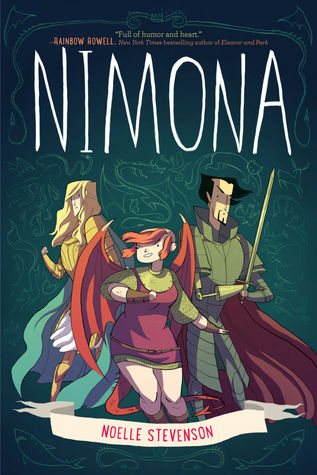 Nimona by Noelle Stevenson
I LOVE THIS WEBCOMIC SO MUCH AND AM SO GLAD IT'S BEING PUBBED BY HARPER BECAUSE THE END OF IT WAS SO BRUTAL AND I WANT MORE AND IT'S THE BEST THING EVER
A Ring Through Time by Felicity Pulman
I hadn't heard of this one, but it has a historical element? A historical
Australian convicts
element about at that? I like. I very like. The cover looks kind of like the old proto-YA stuff I grew up reading.