Review:
Geek Girl
by Holly Smale
Goodreads
Release date:
January 27th, 2015
Publisher:
HarperTeen
Length:
384 (?? felt like a much shorter book to me)
Source:
eARC via Edelweiss
Rating:
If Meg Cabot and Georgia Nicolson had a baby (after writing this I realized that the blurb LITERALLY SAYS THIS so there you go)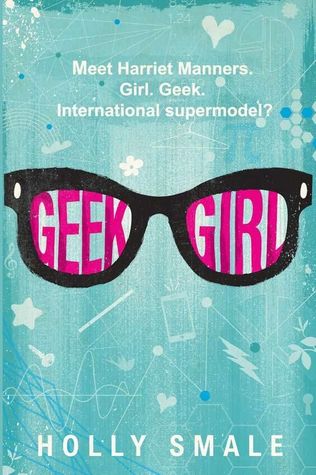 Geek + runway = a hilarious runaway hit! This bestselling UK debut is full of humor and high-fashion hijinks—and now it's coming to America.

Harriet Manners is tired of being labeled a geek. So when she's discovered by a modeling agent, she seizes the chance to reinvent herself. There's only one problem: Harriet is the definition of awkward. Does she have what it takes to transform from geek to chic?
Geek Girl
is the first book in a hilarious new trilogy. It was also the #1 bestselling YA debut of 2013 in the UK, where it was shortlisted for the Roald Dahl Funny Prize and won the Waterstones Children's Book Prize for Best Book for Teens. With all the humor and fabulous shenanigans of Louise Rennison's
Confessions of Georgia Nicolson
and Meg Cabot's
The Princess Diaries
,
Geek Girl
is about to become an international superstar.
I liked this! It was cute, fluffy, and EXTREMELY FUNNY. it was a super fast read and kept me highly entertained, both despite of and because of its absurd premise. I wonder why it took so long for this UK sensation to make it all the way across the pond.
Harriet Manners is an uber geek who feels extraordinarily out of place. She has one friend (her loyal since-childhood bestie, the beautiful wannabe model Natalie), one nemesis (the VILE ALEXA WHO IS A TERRIBLE BULLY AND OUGHT TO BE KEELHAULED), and one gentle stalker (the hilarious Toby who I feel very bad laughing about being stalking is truly not a funny matter and it's possibly problematic how he's potrayed as lovably comedic when IRL dude should be LOCKED UP).
So yeah, Harriet's like is a never ending series of embarrassing events and unfortunate circumstances. Even when she gets "discovered" by a modelling agency, it's a terrible no good very bad thing, because it's her friend Natalie who's always wanted to be the model. But when Alexa the ATROCIOUS does something to seriously crush Harriet's spirit, Harriet decides to become a new awesome person to show them all...and agrees to become a fashion model. Cue whirlwind fantasy fashion AWESOMENESS. Russia! Supermodels! Catwalks! Catty bitches! Hot boys! Frosty fashion designers!
The part of Harriet shall heretofore be played by Allison, my all-time favorite ANTM contestant
Harriet is more like Hilariouset. The number one strength of
Geek Girl
is Harriet's voice. She sucked me right in, even as she made terrible decisions or made me cringe from secondhand embarrasment the likes of which I have not suffered since I read
Bridget Jones' Diary
over ten years ago. it reminded me of the books I used to gobble whole as a teenager, like (as the synopsis says)
The Princess Diaries
(Harriet is very Mia in her levels of insecurity and awkwardness) and anything Louise Rennison. It's about learning to like yourself as you are and all other lovely things.
ROCK YOUR STRANGENESS HILARIOUSET
There is a romance-ish with a male model which is kinda cute (mostly because Harriet's inner monologue is just the funniest thing) but not tremendously swoony, mostly because Harriet it fifteen and this is youngish YA. Is it absurd? Yes. Is that the fun part? YES. I was so tremendously amused that I read this delightful book in one afternoon. If you want some laughs and cutes and a whole lot of awkwardness, definitely chekc out
Geek Girl
.