Welcome to Baking the Books, where I bake things inspired by my favorite novels! Since I do a lot of reading and a lot of baking, it was only a matter of time before the two things overlapped. It's just part of my evil plot to get books involved in every single aspect of my life.
Last time on Baking the Books:
To All the Cookies I've Loved Before
You're probably sick of me shouting at you about
Simon vs. the Homo Sapiens Agenda
by Becky Albertalli, but it's a perfect book, so I'm not going to stop shouting about it anytime soon. Not only is it ten kinds of adorable, not only is it funny, and not only is it a brilliant rendering of what it's like to be confused/confident/closeted/hilarious as hell teen, but it will make you crave Oreos like you've never craved them before.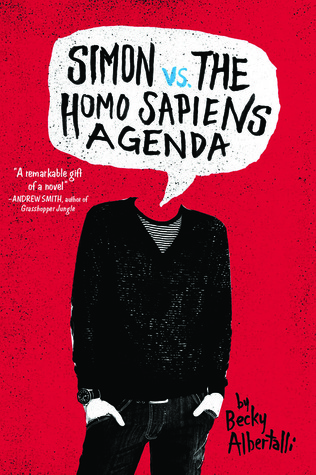 No, seriously. Oreos are basically part of the plot. In the book, Simon, our main character, has a sort of secret email pen pal. Using pen names, he and this other boy exchange glorious emails that vacillate from flirty to heartfelt, and one of the topics they broach is
Oreos,
America's favorite cookie.
Blue.
Okay, first of all, Oreos absolutely qualify as a food group. Second of all, they're the ONLY food group that matters. My Sisters and I actually made up this place called the Shoreo a few years ago one night when we were staying at our aunt's house. It's like this place where everything is made of some kind of Oreo, and the river is an Oreo milkshake, and you sit on top of this massive Oreo and float down it. You get to scoop up cups of milkshake whenever you want.
TAKE ME THERE, SIMON. LET ME JOIN YOU IN THE SHOREO.
So, obviously, after reading Simon, I was kiiiinda craving some Oreos. So I decided to make the most unapologetically Oreo-esque dessert creating in his honor: the Oreo pie.
The crust for this is made with WHOLE. OREOS. Frosting and all. Seriously, this is the easiest pie ever, and you don't even have to bake it (this feature title is a lie). Throw an entire package of oreos in a food processor/in a plastic bag, pulse them until they're crumbs/bang them with a rolling pin and let out all your pent up agression, then pour about a stick of melted butter onto the crumbs, and
voila!
Press those delicious crumbs into a pie tin, freeze it, and you're all set. Oh, and don't forget to eat the extra.
The cool thing is you can put absolutely anything in this pie crust you want, but to go full on Oreo, I filled it with a simple ganache recipe (when I say simple, I mean simple. Place chocolate chips in bowl. Pour hot cream over. Let sit for five minutes. Gently stir until smooth and shiny and chocolate-like). and then I dolloped a whole bunch of whipped cream on top and then tossed mini Oreos on there and then sprinkled some of the extra Oreo crust crumblies to make it a full on OreoSTRAVAGANZA! The only thing that could possibly make this better would be an Oreo millkshake, but alas, I used up all my Oreos in the crust
and from some unauthorized snackage because really how are you supposed to not eat them. LOOK AT THEM.
Unrelated: mini Oreos taste seriously, ridiculous good dunked in whipped cream. #diettips
The Oreo crust tastes like PURE, CONCENTRATED OREO GOODNESS. The ganache is silky smooth and super rich, and since I used quite dark chocoalte, not too sweet. And then there's that dollop of light whipped cream on top to cut through all the chocolateyness, and it's just...mmmmmmmmmmmmm. MMMMMMM, YOU GUYS.
Mmmmmm.
Admit it: are you craving Oreos now? Are there any books you want to see baked? Why am I still typing when I've got PIE to eat??