Review:
Of Metal and Wishes
by Sarah Fine
Goodreads
Release date:
August 5th, 2014
Publisher:
Margaret K. McElderberry (Simon & Schuster)
Series:
Yes, #1 in the
Of Metal and Wishes
series
Source:
eARC via Edelweiss
Length:
320 pages
Rating:
A diverse, original, twisty, romantic fantasy and a loose retelling of
The Phantom of the Opera
.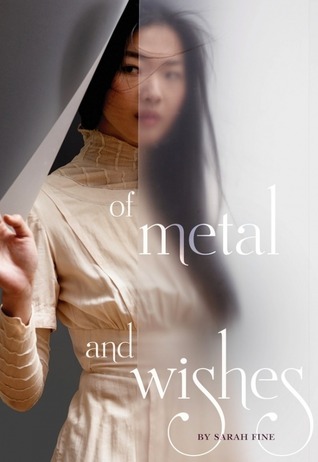 There are whispers of a ghost in the slaughterhouse where sixteen-year-old Wen assists her father in his medical clinic—a ghost who grants wishes to those who need them most. When one of the Noor, men hired as cheap factory labor, humiliates Wen, she makes an impulsive wish of her own, and the Ghost grants it. Brutally.

Guilt-ridden, Wen befriends the Noor, including their outspoken leader, a young man named Melik. At the same time, she is lured by the mystery of the Ghost and learns he has been watching her … for a very long time.

As deadly accidents fuel tensions within the factory, Wen must confront her growing feelings for Melik, who is enraged at the sadistic factory bosses and the prejudice faced by his people at the hand of Wen's, and her need to appease the Ghost, who is determined to protect her against any threat—real or imagined. She must decide whom she can trust, because as her heart is torn, the factory is exploding around her … and she might go down with it.
This book is really good. I've been struggling with how to do this review for quite a while, and yet somehow this is the way I've chosen to start. Why? Because I very much want to impress upon you the fact that Sarah Fine has crafted a truly amazing novel that doesn't feel like any book I've read before, and that she can most definitely write. The only niggles I have are niggles of personal taste, because overall,
Of Metal and Wishes
is a truly excellent and beautifully crafted book. (Also, it's literally physically beautiful. THAT COVER.)
OMaW
tells the story of Wen, a sixteen-year-old girl who, after the death of her mother, is forced to move in to the enormous factory complex in which her father works as a doctor. I loved the world of this book. It's a fantasy without magic, set in a sideways version of industrial China. It is NOT historical, but it is clearly influenced by aspects of the culture. I loved it wholeheartedly. It felt like no fantasy I had ever read before. It's set in a meat factory, a dirty, smelly, claustrophobic, racist, sexist, sweat-hole of a place that serves as its own little microcosm.
Because holy crap, is this a shithole of a place. It's run by bullies and racists and rapists, and it profits from the debts and poverty of other, and it's basically one big metal ball of suck. Fine paints a really believable culture that places a high value on reputation and purity, and while the amount of male characters who sexually threaten Wen throughout the narrative becomes overwhelming, this mindset is built very believably into the world. And then there's the racism against the Noor, who are this different ethnic group of men brought into the factory as super cheap labor. Wen learns to shift her attitudes about women and about the Noor, since she starts off believing what the rest of her world believes. Especially as she starts to fall for Melik, their de facto leader, and especially after she makes a terrible, terrible mistake.
She demands something of the factory Ghost.
I loved that so much of Wen's journey was derived from this mistake, from a moment of resentment, bitterness, and hate. It made her such a real heroine. She asked the Ghost to prove his existence by harming the Noor after one of them harrassed her, and he did, and it's terrible and brutal. This is the part of the story that's based off of
The Phantom of the Opera
, which is admittedly a story I don't know terribly well. I don't want to give much away, but the ghost has a special interest in Wen, and it's a mix of heartbreaking, creepy, and then more creepy. I didn't super love all parts of the actual Ghost story, including the ultimate direction of Wen's feelings towards the Ghost, but other parts of it were note perfect and totally unsettling.
There are shades of instalove between Wen and Melik, but Melik is so awesome and they have such chemistry that I totally shipped it anyway, because why not. They're from two different cultures and two very different social spheres, because though she's no longer the fine girl she used to be (and can no longer afford medical school, her dream), he's a Noor. And Noor are little more than animals to the Itanyai, aka Wen's culture.
ALSO. Things gets SUPER BLOODY in this book. MAN. YOU NEED A STRONG STOMACH. THERE IS BLOOD AND GUTS AND ANIMAL CRUELTY AND... yeah. Just be warned. This factory is a gritty and gruesome place. It is a creepy, unsettling world of secrets and ghosts and metal monsters and vengeance and death and more death and extra death. It made for a truly compelling read with very high stakes, and though I fel the ending was a bit abrupt (AND SO COMPLETELY GRUESOME), I look forward to reading the sequel. Because yay! There's a sequel!