Review:
Fire
by Kristin Cashore
Goodreads
Release date:
October 5th, 2009
Publisher:
Dial Books (Penguin)
Series:
Yes-ish, #2 in the
Graceling
Realm series of companions
Source:
Purchased
Length:
461 pages
Rating:
ASDHFJSDFKAJSD SQUEEEE *flips table* *runs in circles* *collapses*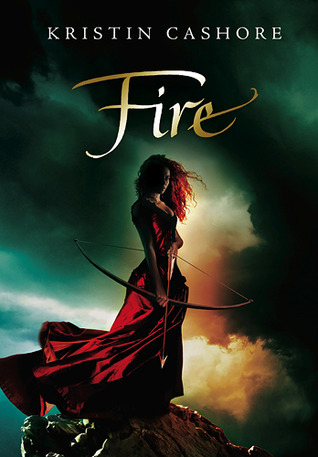 It is not a peaceful time in the Dells. The young King Nash clings to his throne while rebel lords in the north and south build armies to unseat him. The mountains and forests are filled with spies and thieves and lawless men.

This is where Fire lives. With a wild, irresistible appearance and hair the color of flame, Fire is the last remaining human monster. Equally hated and adored, she had the unique ability to control minds, but she guards her power, unwilling to steal the secrets of innocent people. Especially when she has so many of her own.

Then Prince Brigan comes to bring her to King City, The royal family needs her help to uncover the plot against the king. Far away from home, Fire begins to realize there's more to her power than she ever dreamed. Her power could save the kingdom.

If only she weren't afraid of becoming the monster her father was.
When I read
Graceling
for the first time last year, it instantly became one of my favorites. To say I had high hopes for
Fire
, which
Ellis
had been flailing about for a good long while, would be an understatement. But Kristin Cashore more than delivered with this follow-up companion prequel sequel whatever thing. I know I might be in the minority with this, but I think I connected to and loved
Fire
even more.
Fire
, I think, is a more mature novel than
Graceling
(which is not to knock
Graceling
, because that book is incredimazing).
Fire
is a gentler, quieter novel of feeling, loneliness, and love. It features a human heroine who is a monster on the outside and fights desperately not to be a monster on the outside. Monsters in the Dells aren't hideous beasts. In fact, they're the opposite: brightly colored, intensely beautiful creatures with advanced psychic powers, so intensely beautiful that they drive people mad. Fire is the last of the human monsters, and the last thing she wants to be is as powerful and evil as her monster father was. She hides her vibrant hair, never uses her mental powers if she can help it, and hides in a lonely northern estate with her pseudo-adoptive father, Brocker, and his son, her best friend, Ash.
But of course, fate comes a-knockin', and political strife comes a-brewin', and Fire is force dout of her comfort zone. She has to travel, and she comes across all manner of men. Seriously, being a female monster would be THE WORST, powers of persuasion/mind-reading be damned. Fire's life is so hard. Not only do monsters crave the taste of monster flesh--so she's constantly being attacked by animal monsters--but they inspire very volatile feelings in humans. Fire's life is an exaggerated version of what all women face. She is harrassed, victimized, attacked and more by men driven near-mad by her beauty. And it's heartbreaking.
Fire's country is being torn about by rebels and betrayal, and though all of that is central to the plot, this really is Fire's story. She's an incredibly compassionate, quiet sort of heroine, and I found her totally loveable and refreshing. I want to sit beside her and have her teach me music and just be nice to her, because hardly anyone's nice to her, poor girl. I want her to realize her own self-worth and not be afraid of herself. This book is all about Fire coming to terms with her monster identity and her human heart. Also Brigan Brigan BRIGAN BRIGAN BRIGAN. BRIGAN.
Brigan
. It's also very much about Prince Brigan and his perfect Brigan-ness.
Ughhhh, you guys, my heart. It was stomped on and pulled apart and stitched together and flung out a plane window and steamrollered and I cried in front of a 747 full of people, yo. And then, once I was waiting in the (INDECENTLY LONG) customs line at LAX, I decided to read a little more and then cried in front of 747's worth of people, only this time they were all standing right next to me. It's cool. Whatever. I DIDN'T NEED MY HEART ANYWAY, CASHORE.
This is one of those books that breaks you because it's just so damn beautiful and moving and hopeful and sad and gorgeous and arrrrrgh, it is all the thinggggs. These relationships happen that you never thought would happen and Fire grows so much and I can't even think about this book without having to hug myself and maybe even whimper a little.
I think what I hate the most about this book is that it's impossible for me to review. It just affected me
that
much, so I feel like anything I say will be inadequate. There was girl power, self-actualization, lovely world-building, intrigue, romance, and characters I beyond adored. I
miss
these people. I miss Fire, and Brigan, and Nash, and Clara, and Garan, and Brocker, and Roan, and Archer. They were funny and heartfelt and then funny again. They were real. I miss the slow development of Fire's growth and her complex emotions.
Pretty much the one negative for me would be the pace. This is not a fast novel, nor is it a short one, and the beginning is downright glacial. But once I found my groove, I couldn't stop reading. I felt like I'd crawled into Fire's world and was right there next to her, rooting for her and aching for her and shrieking BRIGANBRIGANBRIGAN!!!!! because BRIGAN. Just trust me. BRIGAN. He's going on my shelf of "love interests to be SHOUTED ABOUT besides the likes of CHAOL, STURMHOND, and HECTOR.
If you're a high fantasy fan and you haven't read Cashore yet, OMG GET TO IT YOU WON'T REGRET IT.
Want to tell me what I should read next? Or at least, sometime this century? Fill out the form below!