There's no real logic in putting these two half-reviews together, other than the fact that I read them back to back and the titles link together ever so nicely!
Review:
Stitching Snow
by R.C. Lewis
Goodreads
Release date:
October 14th, 2014
Publisher:
Disney-Hyperion
Series:
No
Length:
338 pages
Source:
print ARC from BEA14
Rating:
Sci-fi Snow White with an awesomely sarcastic heroine, cute romance, some flat characters, and a decent plot.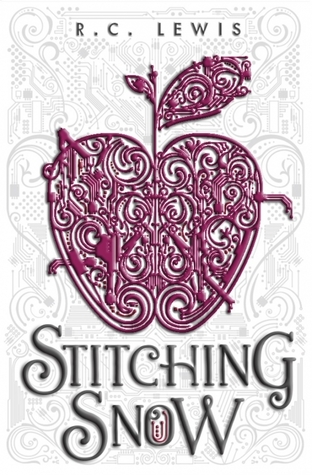 Princess Snow is missing.

Her home planet is filled with violence and corruption at the hands of King Matthias and his wife as they attempt to punish her captors. The king will stop at nothing to get his beloved daughter back—but that's assuming she wants to return at all.

Essie has grown used to being cold. Temperatures on the planet Thanda are always sub-zero, and she fills her days with coding and repairs for the seven loyal drones that run the local mines.

When a mysterious young man named Dane crash-lands near her home, Essie agrees to help the pilot repair his ship. But soon she realizes that Dane's arrival was far from accidental, and she's pulled into the heart of a war she's risked everything to avoid. With the galaxy's future—and her own—in jeopardy, Essie must choose who to trust in a fiery fight for survival.
This book is so much fun. It doesn't reach quite the level of awesome it could, but you also seriously have to botch a space opera Snow White retelling for me dislike it, and R.C. Lewis far from botches this.
What makes me forgive a few shallow portions of plot--and what made me emotionally invest in this galactic fairy tale--was Essie herself. I love this girl. She is dry and sarcastic and prickly. I found her hilarious and empathetic. When we first meet her, she's a mechanic on a remote mining settlement on a frozen planet. She's very good with tech and has managed to "stitch" (her term for wiring and programming and... things I don't understand) seven very efficient drones, some of whom have pretty adorable personalities (DIMWIT! CUSSER! I want one.) Then a handsome dude named Dane crash-lands on her planet, and Essie is drawn back into the political mess she's spent eight years escaping.
I totally shipped the (space) ship. Dane is not overflowing with personality, but Essie certainly had enough for the both of them. She is traumatized by her horrible past, and though she's definitely touchy and surly, she's also tough as nails. Their romance is pretty cute and sweet and oh so very healthy.
Parts of the book are rushed (Candara arc especially), certain emotional beats don't have as much impact as they could (um, hi, Kip), not all aspects of the plot or world or characters are as fleshed out to their full potential, and some solutions to their problems are a bit too easy. I also would have LOVED a bit more from Queen Olivia. But again, it's hard for me to resist this kind of book, and Stitching Snow was an uber enjoyable read that I totally flew through. Team Essie for the win forever and always. Plus, I loved the sci-fi parallels to the original fairy tale, ESPECIALLY the ending.
Quotey goodness:
I was terrified Dane would kiss me again. I was also terrified he wouldn't. Mostly that he would and I would have to hit him.
How does that make any kind of sense?
Dane's way (of looking) at me was different, had been for ages--as if he didn't want anything from me, yet wanted everything.
Review:
Snow Like Ashes
by Sara Raasch
Goodreads
Release date:
October 21st, 2014
Publisher:
Balzer + Bray (HarperCollins)
Series:
Yes, #1 in the
Snow Like Ashes
trilogy
Length:
432 pages
Source:
e-ARC via Edelweiss
Rating:
Compulsively readable, but ultimately disappointing. (Cute boy, though.)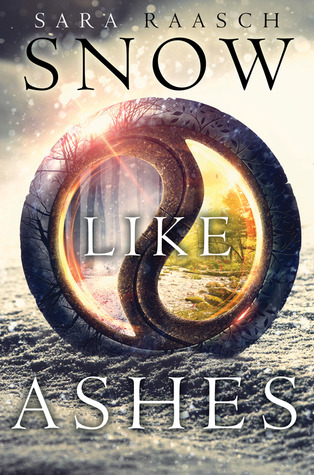 A heartbroken girl. A fierce warrior. A hero in the making.

Sixteen years ago the Kingdom of Winter was conquered and its citizens enslaved, leaving them without magic or a monarch. Now, the Winterians' only hope for freedom is the eight survivors who managed to escape, and who have been waiting for the opportunity to steal back Winter's magic and rebuild the kingdom ever since.

Orphaned as an infant during Winter's defeat, Meira has lived her whole life as a refugee, raised by the Winterians' general, Sir. Training to be a warrior—and desperately in love with her best friend, and future king, Mather — she would do anything to help her kingdom rise to power again.

So when scouts discover the location of the ancient locket that can restore Winter's magic, Meira decides to go after it herself. Finally, she's scaling towers, fighting enemy soldiers, and serving her kingdom just as she's always dreamed she would. But the mission doesn't go as planned, and Meira soon finds herself thrust into a world of evil magic and dangerous politics – and ultimately comes to realize that her destiny is not, never has been, her own.
I wanted to love this book. SO MANY of my Goodreads and Blogger friends five-starred this, and while I found this book compulsively (almost disturbingly) readable, it lacked in a lot of ways. There is tons of good here, and I might be strangely obsessed with this series in a way I cannot honestly begin to explain (it's not a good way? But not a super bad way?), but again, it's flawed. (I might have been mildly
Selection
'ed. MAKE OF THAT WHAT YOU WILL.)
Icechips Like Charcoal
is about a refugee of the fallen kingdom of Winter named Meira. When the Kingdom of Spring took it over sixteen years ago, they either killed or enslaved all the Winterians, except for the lucky eight (including Meira) who escaped and have dedicated their lives to reclaiming their kingdom. This can be done by uniting the two halves of the Dismantled MacGuffin locket, which will give them back their maaaagicks. I'll give Raasch tons of credit for not dragging out the locket quest at all, though I thought there was a lot of lucky coincidence (she just so happened to overhear two people discuss it's location? When they were forbidden to?).
Anyway, then they're in this other kingdom, Cordell, for reasons you'll have to read and find out, and I started liking
Flurries Like Soot
a lot more here. The characters are all pretty flat, but Meira comes to life in this section. She (abruptly) becomes quite delightfully snarky, though she still has very strangely immature reactions to things that don't seem to jive. I also don't like the mix of real world names with made-up ones (William, Finn, Allysson... Crystalla, Angra, Mather. And HEROD? Really??). But Prince Theron is delicious. He's a sweet, blushing poetic prince who is totally cute. Though I am CONFUSED about how this ship can sail down the road for spoilery reasons, he is so completely obviously the better guy that I will defend him fiercely with my chakram. *stomps on Mather's face* *does not actually have a chakram* *would probably decapitate myself accidentally if I did*
I'm chakraming to get you
I know a lot of people found the worldbuilding of
Blizzards Like Campfires
confusing, but that actually never threw me. There are eight kingdoms to keep track of, technically, but a few only play peripheral roles. Where I had issues was with the predictability of the twists, the rushed quality of the plot, and the conveniences. The Cordell episode does not go into nearly the amount of depth I would've liked about it. The way Meira discovers SPOILER's betrayal is laughably stupid. I wanted this to be the kind of epic fantasy that swept me away, but it quite simply wasn't.
I'm totally the black sheep here. Tons of people loved this, and like I said, I couldn't stop reading. I just found a lot of the happenings either very convenient or very obvious, and I never got the depth of emotion out
Icicles Like Embers
that I think I was meant to. One or two moments almost did ("One day we will be more than words in the dark"), but... I don't know. I'll read book two. I like the boy. I odn't want Meira ro die, or anything. But by no means do I think this book is comparable to current YA high fantasies like
Throne of Glass
or
The Girl of Fire and Thorns.
And I'm extremely bummed about it.