Review:
The Demon King
by Cinda Williams Chima
Goodreads
Release date:
October 6th, 2009
Publisher:
Hyperion
Series:
Yes, #1 in the Seven Realms series
Length:
506 pages
Source:
Purchased
Rating:
Demon King? More like DeMAZING King! (Demonazing? Demonzing?)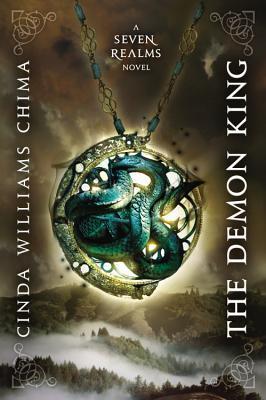 Times are hard in the mountain city of Fellsmarch. Reformed thief Han Alister will do almost anything to eke out a living for his family. The only thing of value he has is something he can't sell—the thick silver cuffs he's worn since birth. They're clearly magicked—as he grows, they grow, and he's never been able to get them off.

One day, Han and his clan friend, Dancer, confront three young wizards setting fire to the sacred mountain of Hanalea. Han takes an amulet from Micah Bayar, son of the High Wizard, to keep him from using it against them. Soon Han learns that the amulet has an evil history—it once belonged to the Demon King, the wizard who nearly destroyed the world a millennium ago. With a magical piece that powerful at stake, Han knows that the Bayars will stop at nothing to get it back.

Meanwhile, Raisa ana'Marianna, princess heir of the Fells, has her own battles to fight. She's just returned to court after three years of freedom in the mountains—riding, hunting, and working the famous clan markets. Raisa wants to be more than an ornament in a glittering cage. She aspires to be like Hanalea—the legendary warrior queen who killed the Demon King and saved the world. But her mother has other plans for her—including marriage to a suitor who goes against everything the queendom stands for.

The Seven Realms tremble when the lives of Hans and Raisa collide, fanning the flames of the smoldering war between clans and wizards.
You know what's a really fun thing to do if you have bookish friends? Read one of their favorite series in
total secrecy
and then surprise them by delivering a rave review! Bonus points if they've been yelling at you to read that book for months!
The Demon King
, first in Cinda Williams Chima's classic Seven Realms quartet, is everything I love in fantasy (minus shippy, but I KNOW that's coming in later books). If you're a high fantasy fan but haven't yet started this series, GET THEE TO A LIBRARY OR BOOKSTORE, because this is gooood stuffs, yo.
I'll start right upfront with my one reservation about this book, and it's that pacing- and plot-wise, this installment is sort of the precursor to the really juicy conflict of the later books (which I have not read yet, FYI).
The Demon King
is not a fast book, but it does a bang-up job of setting up really great characters and a very complex fantasy world, even if aspects of the ending are a week bit anticlimactic/low impact/obvious. I know some people had (perfectly legit) issues with this, but after a chapter or two I found myself utterly sucked into the world. It broke my bitch of a reading slump and made for a most excellent plane read.
Me, to The Demon King*
I found the world a leeetle confusing at first, but my patience was rewarded. And as I've said multiple times, if I like the main characters enough, I will follow them across unsure ground. Han and Raisa (AND AMON BECAUSE AMON) are such characters. They anchor a sweeping story that includes wizards, court intrigue, battling kingdoms (AND QUEENDOMS BECAUSE GIRL POWER HOLLAAAA), and age-old lore.
Raisa is the princess heir to the queendom of the Fells, and she's definitely got that
rebellious princess
thing going on. She's also sour, stubborn, and really enjoys kissing boys, which means she's awesome. She's under tremendous pressure to get married and is currently being inundated with suitors, but she also feels like she may be the only royal who can see that trouble is a-brewin'. On the total opposite side of the social spectrum is Han, street urchin and former gang leader, trying in vain to support his mom and younger sister in the slums. The poor boy can't catch a break, but he's very charming and constantly runs head-first into trouble. They were very distinct and engaging, and I loved spending time with them.
Raisa in a quote:
"Magret says I'm willful and stubborn. I do try to get my own way, but I think it's because I'll never get my own way on anything that matters."
Han in a quote:
Despite the grim situation, there was something about him, a kind of wild untamed humor and bravado and dogged stubbornness that tugged at her. He expects nothing, she thought, because he's never had anything. And nothing was expected of him.
Now, shippy-wise? I got no clue what's coming. All the various characters are entangled with various other characters, and
so
much has yet to happen. What will happen? I sure don't know. Do I have seeeecret ships in my heart of hearts? Answer: I DON'T. WHAT IS THIS WIZARDCRAFT? Like I said, it's too early. Except for briefly shipping myself with both Han and Amon (Raisa's bff/possibly love interest/son of the captain of the guard/soldier boy) and and shipping Raisa with independence, I've got no shippy leanings yet. Which is utterly uncharacteristic, but evident of CWC's supreme skill in that she's left me guessing and eager and waiting.
I loooooved the writing in this book. CWC is a master of prose and setting, especially when it came to describing the more unsavory parts of Fellsmarch, the capitol. And then there's the richness of the history of Queen Hanalea and the culture of the clans in the mountains, the different kinds of magic, the strife between wizard and clan, the power struggles of the court and the battling kingdoms in the south... this be epic fantasy, yo. The stage has been set for total epicness. I'm glad I have the full series, because I plan on leaping straight into book two,
The Exiled Queen
, as soon as I finish this review. Which is now. BYE.
*
possibly
a wee bit exaggerated for dramatic purposes